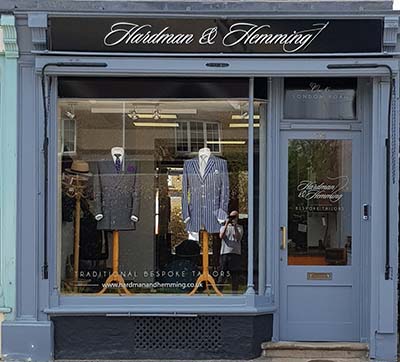 Keeping smart during the pandemic hasn't been at the top of everyone's list, but for us at Hardman & Hemming coming out of lockdown has proved to be just the tonic people have needed.
We have seen a real desire for tailoring and style over the last month or so, and not just weddings either although, of course, our grooms are really keen to make sure they are ready for the big days now they can be confident about their plans.
Weddings take a lot of planning and that includes the tailors, it takes around 8 to 10 weeks to sort a suit so it's important for grooms to give themselves plenty of time and not leave it to the last minute.  We usually suggest that the sooner you start a suit for a wedding the better.  It should be an enjoyable thing to do and not something that causes worry or stress, panicking if you are going to be ready in time, if you are getting married in August now is the perfect time to get started.
After being in lockdown for so much of the last year you could be forgiven for thinking that people don't want to dress up anymore but it's quite the opposite.
People seem really keen to make the change to being smarter after wearing more relaxed  and casual clothes for so long.  Some of that is wanting to feel prepared for heading back into the office but also I think it's just being able to go out and see people, to make an effort for something, it's refreshing to wear something that isn't casual clothes or Pjs.
It looks like our high streets and workplaces could be more like catwalks in the coming months and we can't wait, so here are a few tips to keep you looking smart and elegant:
Really pay attention to the sleeve length on your jackets.  Nothing will make a jacket look too big quicker than sleeves that are too long.  Showing a shirt cuff is a great way to look stylish, but if you don't feel comfortable doing that just ensure that the jacket sleeves don't go past the start of your palms when your arms are by your side.
Pocket squares are an amazing addition to your wardrobe. A pop of colour in your breast pocket is a great way to bring individual style and personality,  don't be frightened to make it contrast with your tie or suit colour, in fact make sure it is a contrast.  A pocket square is also a great way of creating a new look with the same jacket and cheaper than a new jacket too!
Pay attention to your shoes!  Spending money on a great suit or outfit will be wasted if you don't spend a bit of time on your shoes.  They don't have to be expensive but if you look after them and keep them clean and polished it really will complete your look.
If you work in an environment where you need to wear a tie then invest a little time on learning a few good tie knots, the Windsor is a classic and for good reason.  It's a good neat knot that holds well all day and can be adjusted to suit your tastes but it is by no means the only one out there.  Do a quick search on Youtube for tutorials, there are loads to choose from and before you know it you will have a good variety mastered.
How do you make a suit last?  This is really a few tips in one and it is easily done.
Firstly, if you can buy two pairs of trousers and rotate wearing them, don't wear the same pair every time you wear the suit, this will easily double the life of your suit.
Don't overload your pockets, in your trousers or jackets.  The more you put in them the more the suit will bag and the lining will wear faster. Keys are the worst.  Be kind to your pockets.
Keep dry cleaning to a minimum.  To help with this make sure you hang your suit up properly at the end of the day and let it air before putting it away.  Spot clean any dirty marks with a clean damp cotton tea towel, just water is fine.
When you press your trousers don't spray them, lay a clean damp linen or cotton tea towel or cover over the top and press on to that, no steam required.  This will help take out the creases and also stop the cloth from going shiny through pressing.